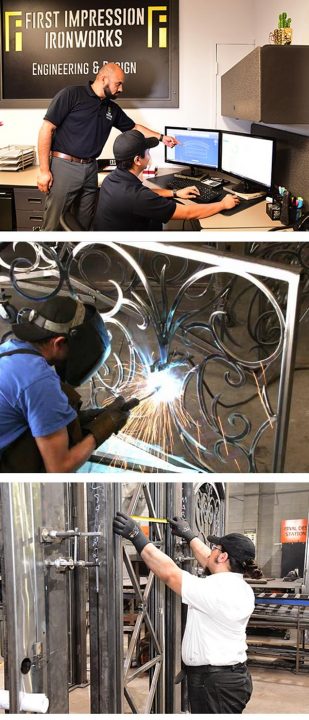 Simply put, we have the fastest turnaround time in the entire industry when it comes to custom made iron doors. Every Iron Entry Door and Iron Security Screen Door from First Impression Ironworks is custom made to fit your home's style and your opening's exact specifications. Your door will not be made overseas. It will not be coming from China or Mexico or any other off-shore location. First Impression Ironworks doors are 100% American made products.
And since we make your door right here in our own Arizona facility, we're in complete control of the timing when it comes to the design, manufacture, and delivery of your door to your home. Typically it takes about 6 weeks from the day we help you select just the right design for your door, to the day it's ready to ship to your home.
Your door will be meticulously built using iron and steel products made here in the USA. Our factory trained craftsmen are not simply building doors to sit on an inventory shelf somewhere, or to be sold at a big box store anywhere. Your door will be made subject to the design and design features you've chosen, all with your home, your style, and your budget in mind.
When your door had been completed it will undergo several quality control inspections before we'll approve it for delivery. Then it will be carefully protected and crated for shipment to your specified address. We'll include all the hardware items you'll need for your contractor to easily install your door.
We've been designing, building and delivering Iron Entry Doors and Iron Security Screen Doors to homeowners just like you for over 25 years. We know that making a good first impression at your home starts with your doors. So let us help you secure your family, add value to your home and create a lasting First Impression at your front door. Click here to begin your FREE Design Consultation and Quote.